Empowerment of Buddha Vajrasattva
Vajrasattva Empowerment
Saturday 7 December 2013
10am – 5pm
Chenrezig Centre, 93 King Street, Lancaster LA1 1RH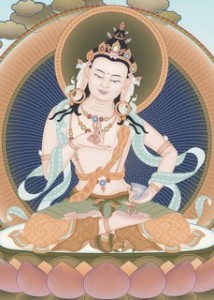 Geshe Kelsang Gyatso says, 'Attaining enlightenment is very simple; all we need to do is to apply effort to purifying our mind.'
On this day Kelsang Dema will grant the blessing empowerment of Vajrasattva, the Buddha of purification, and explain how we can remove all negativities and obstacles from our mind.
In Modern Buddhism, Geshe Kelsang says, 'Purification is the supreme method to prevent future suffering and to remove obstacles to our Dharma practice. It makes our actions pure so that we ourselves become pure.'
The blessing empowerment is in the morning, with a teaching and meditation in the afternoon. The cost of the day is £25 including lunch, drinks and biscuits. To book please email chenrezigepc@googlemail.com or see your class assistant after any meditation class. Everyone is welcome.
This day will be followed by a 3 day retreat – see overleaf for details
If you need accommodation email chenrezigepc@googlemail.com